!CAUTION!  
YOU ARE IN A "VERBAL SHRAPNEL" RICH DOMAIN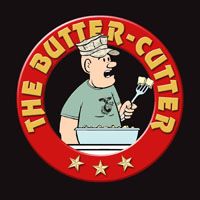 12 August 2009
The Butter-Cutter on Banning Internet Social Networking Sites
Anthony F. Milavic
Major, United States Marine Corps (Retired)
I rushed into Virtual Mess Hall in an attempt to escape an oppressively hot August day. The effort proved futile for the Mess Hall was little cooler than the outside as a consequence of a broken air-conditioning system. Never the less, I walked up to the Chow Line and The Butter-Cutter, who was, himself, perspiring, and asked, "Have you heard that the Corps has placed an 'Immediate Ban' on all Marines accessing 'Internet Social Networking Sites' such as Twitter, Facebook, and Myspace?" (1)
"Damn straight! We're bad-ass Marines, Man. Bad-ass Marines ain't got no time fer that tweet-shit 'n' makin' civilian friends on Facebook. We gotta keep our warrior edge! OORAH!"
"Well, I'm surprised. I thought you would be offended by this MARADMIN Directive," I said to The Butter-Cutter.
"HELL NO! F*** ALL THEM CIVILIAN PUKES! Marines got no friends but other Marines! OOOORRRRRAAAAHH!" he shot back.
"Well," I said to The Butter-Cutter, "the Department of Defense has its own Facebook page and the Chairman of the Joint Chiefs of Staff, Admiral Mullen, has over 4,000 people following him on Twitter." (2)
"F*** the Chairman o' Spear-Chuckers! He's a Swabbie, anyhow, 'n' not a Marine!" (3)
The Butter-Cutter was not responding in his usual fashion, so I tried another tact. "In that Directive, the Corps says: 'THESE INTERNET SITES IN GENERAL ARE A PROVEN HAVEN FOR MALICIOUS ACTORS AND CONTENT AND ARE PARTICULARLY HIGH RISK DUE TO INFORMATION EXPOSURE, USER GENERATED CONTENT AND TARGETING BY ADVERSARIES. THE VERY NATURE OF [these sites] CREATES A LARGER ATTACK AND EXPLOITATION WINDOW, EXPOSES UNNECESSARY INFORMATION TO ADVERSARIES AND PROVIDES AN EASY CONDUIT FOR INFORMATION LEAKAGE THAT PUTS OPSEC, COMSEC, PERSONNEL AND THE [Marine Corps Network] AT AN ELEVATED RISK OF COMPROMISE.' If that's true, it would appear that the Chairman, potentially speaking, is at greater risk to those dangers than rank and file Marines."  (1) 
"HELL NO! That means the Commandant o' Spear-Chuckers knows Marines are inta more good shit than the Chairman o' Spear-Chuckers 'n' he's taken defensive action with that Directive. Didn't ya understand what ya read? Them sites got all kindda spies 'n' adversaries on 'em like Communists, Nazis, Demoncrats, terrorists, Massachewshits, Jihadists, Californuts, 'n' whatever that are out ta steal secrets 'n' f*** over us poor dumb-shit Marines. Man, why I gotta tell ya that? How come ya don't see that by yerself?" The Butter-Cutter asked.
I dodge the question by asking, "Don't you understand? This restriction only applies to the use of Marine Corps' computers on Marine Corps' networks in accessing these sites? Marines can still log onto and participate on Twitter, Facebook, and any other Internet Social Networking Site if they use their personal computers. They are, then, susceptible to the dangers the Corps described on these sites!"
"HELL NO! Don't ya know Marines don't take work home with them? They leave all that Marine Corps SECRET SHIT back on the job ta make sure they don't give it up er whatever. OOOOORRRRAAAAHHHH! Hell no, Man, that's what we call bein' professional MOTHERF***ERS! DOUBLE OOORRRRAAAAHHHH!" and The Butter-Cutter slammed the steam table with his fist.
I just didn't believe The Butter-Cutter was being candid with me. So, I cut to the chase, "WHY ARE YOU PUTTING ME ON?" I asked sharply.   
It caught him off guard and he said, "Maaan, it's jest too freakin' hot ta argue with ya . . . OK? All right! All right! This is all BULL SHIT . . . BULL SHIT! Anyhow . . . we talked about them generals usin' the Internet before . . . remember?" (4)
"So, you agree that the action by the Marine Corps in terminating the use of government computers to access Internet Social Networking Sites is . . . ill-advised?"
'No! No! No! There ya go again changin' what I say! WE AIN'T NEVER BEEN ABLE TA USE GOVERNMENT STUFF FER PERSONAL SHIT! That Directive thing that says 'IMMEDIATE BAN' on that shit is BULL SHIT! The BAN'S always been there!"
I stared at The Butter-Cutter for a moment, then, said, "When all is said and done this MARADMIN Directive is meaningless?"
"Maan, either yer stuck on officer-type stupid er the freakin' heat has got ta ya. NO! it does mean somethin' when the Head-Shed o' the United States Marine Corps goes out in writin' . . . I repeat, GOES OUT IN WRITIN' sayin' that the Marine Corps sees United States of AMERICA Internet Social Networking Sites as TOO DANGEROUS FOR MARINES BECAUSE OF THE ADVERSARIES THERE! THINK MAN! Who the f*** are the people usin' them sites that the Corps calls 'ADVERSARIES'? Americans . . . Man, AMERICANS! The Corps is sayin' AMERICANS ARE OUR ADVERSARIES!"
The Butter-Cutter picked up a towel and began wiping the perspiration from his face as I stood there digesting what he had said. The Corps, my Marine Corps says, "AMERICANS ARE OUR ADVERSARIES?" NO! NO! NO! HEAT OR NO HEAT, I AM OUT OF HERE!
Semper Americans, 
Anthony F. Milavic
Major USMC (Ret.)
(1) http://www.marines.mil/news/messages/Pages/MARADMIN0458-09.aspx  
(2) http://www.marinecorpstimes.com/news/2009/08/marine_socialnetworking_080409w/
(3) http://www.thebutter-cutter.com/The_DoD_Spear-Chuckers.html 
(4) http://thebutter-cutter.com/Generals_Use_YouTube.html
WADDAYA THINK?
(7 Thinks)
Dutch White USMC (Ret) said:   August 11th, 2009 8:39 pm
Naw. The Buttercutter screwed up big-time on this one. He painted it with way too big a brush. It ain't about OPSEC at all with regard to we regular olde pharte Jarheads. This pertains to those active duty types that are involved in all that secret sh*t that we never have been allowed to talk about. No worries! SF Dutch 
Robin Rebhan said:   August 11th, 2009 9:15 pm
Reminds me of the base Commander banning Arlo Gutherie's movie " Alice's Resttaurant " on base. Nobody knew what it was about oranything, but, the first thing we did was head off base and go see the movie. See ya! I just looked up twittering and heading out to do it now....
Sniperbait66 said:   August 11th, 2009 11:19 pm
I have to agree with the Butter Cutter. Our Gubmint is very afraid of the American People like you and I. Veterans with a strong belief in freedom of speech, and the Constitution. Look at them calling outspoken Americans "traitors", and UN American. Yet the SEIU (SOCIALIST ENFORCER INFILTRATING UNDERCOVER) Brownshirts are beating and intimidating everyday Amerocans to force them into FEAR mode. Insted, they are getting ANGER mode, as they well should. Everybody UNDERESTIMATED Americans, First the king of England, then the Kaiser, then Hitler and Hirohito. Now we have Soetero, whose idea of transparency, it to look into our private lives, to use this HR3200 to get into our Bank Accounts to steal what money they haven't stolen with their new taxes. The backlash will be mighty and deadly. I'm not advocating Revolution, but if it happens, I intend to live up to my oath, and fight the Domestic Enemies, standing shoulder to shoulder with my Minuteman brothers. 'Nuff said.
Dave Z said:   August 12th, 2009 12:24 am
That broad Pelosi might be looking!
USMCRET said:   August 13th, 2009 4:34 pm
The butter cutter earns a GOTTCHA Marine Corps on this one. To ban something that is already banned and then imply that Americans are the enemies of the Marine Corps by stating that Twitter, Facebook, et. al. are havens of adversaries is the height of communications stupidity. To top it off, when I saw who was responsible for this communications faux pas, I doubled over in laughter. At the bottom of the cited MARADMIN Directive is the following statement: "RELEASE AUTHORIZED BY BGEN G. J. ALLEN, DIRECTOR, COMMAND, CONTROL, COMMUNICATIONS, AND COMPUTERS/CHIEF INFORMATION OFFICER OF THE MARINE CORPS.//" 
SgtMajor Jack Du Bois USMC said:   August 14th, 2009 12:05 pm
I have many friends that are on these social networks and after awhile most of them drop off due to lack of privacy and other matters. I have never joined one. My feelings are that they are hosted by people who are looking for something from other people. People stupid enough to put information about themselves or what they do on the net to show how important they are. I am not a friend of censors or keeping people from mingling, but I do feel that members of the Service should be warned about the dangers of what can happen by too much free speech. As we said in WWII, "Loose Lips Can Sink Ships". Today we do not know who is on the other end of this line or what country it is. this is very scary for a person who is not familiar with all the aspects of these overly friendly places. Should we have more lectures for our service personnel to warn them of what may happen???? Semper bewildered by this present world. Jack Du Bois SgtMajor USMC, Retired 1945 - 1972 
Capt. Will Clifford, USMC (Ret) said:   August 14th, 2009 4:12 pm
C'mon guys and girls, if you do not know that there are some United States citizens out there that want to do the country harm you must be drinking Kool Aid; all it takes is one.